Attractions Simon's Town, Cape Town
The Cape Point and Cape Peninsula Tour takes you to Simon's Town in Cape Town. A charming coastal town overlooking False Bay and home to the South African Navy. View the frigates and submarines from a distance that are docked at the Naval Base harbour and explore the village on a walking tour.
Things to do in Simon's Town.
Simon's Town, is a historic naval town about a 47-minute drive from Cape Town, in the Western Cape, South Africa. You'll be greeted to Simon's Town by magnificent colonial-era buildings along it's famous historical mile. It is located on the shores of False Bay, on the eastern side of the Cape Peninsula, and for more than two hundred years, Simon's Town has been a naval base and harbour
Simon's Town, named after Simon van der Stel the first Governor of the Cape Colony, has been an important navy port (first for the British Empire, and now for the South African National Navy) since its foundation in 1680.
Here is a list of the top Attractions in Simon's Town
We head off to the main attraction of Simon's Town; Boulders Beach. Home to 3,000 penguins, this beach is the perfect place to view the adorable penguins in their natural habitat.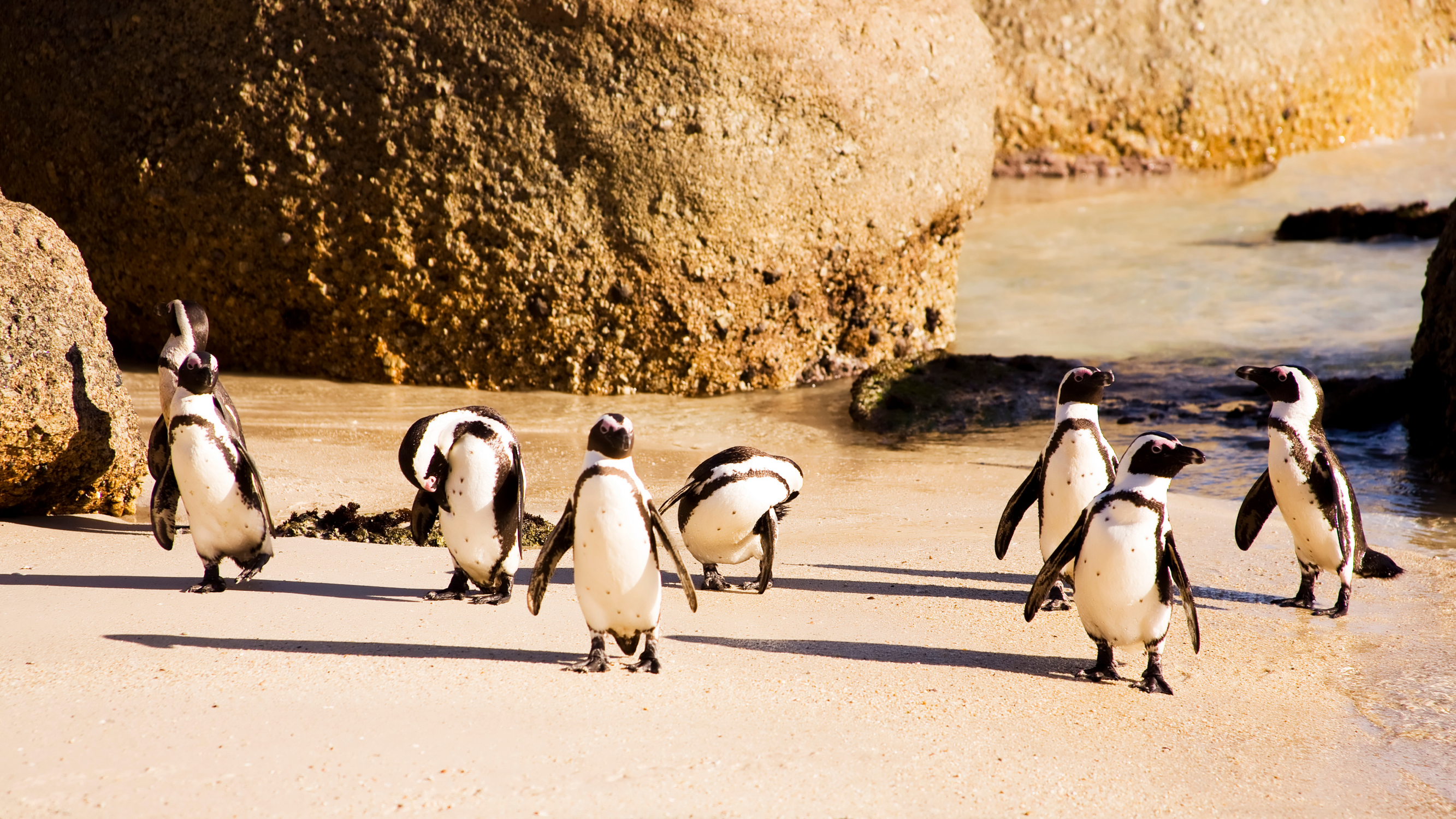 Boulders Beach Penguin Colony     is located in the Cape Peninsula near Simon's Town, see African Penguins up close in their natural environment in the sheltered inlet of Boulders Beach. The protected colony of African penguins which can be viewed in their natural habitat via wooden walkways. There is also an excellent beach for swimming with penguins nearby.
Boulders Beach was established as a penguin colony in 1982 and has since grown from just two birds to nearly 3,000.  
If you're wondering which season to visit in, have a look below to see!
January: Juvenile penguins will be moulting, and mature penguins will be eating for the breeding season
February to August: Breeding season
September to October: Penguins are mainly at sea
November to December: Moulting season
Top ways to experience Jubilee Square & Jetty, Simon's Town
The Ideal place to kick off your exploration of Simon's Town is Jubilee Square. A historic square and Jetty in the heart of Simon's Town with a few restaurants serving fresh seafood, and many interesting marine exhibits, including the statue of Just Nuisance.
This attraction offers something for everyone with beautiful local art that can be brought at the African craft market, with little shops to walk through along the main road and taste fresh seafood at one of the many local restaurants. From the jetty, boat departure for Whale watching and Shark cage diving within False Bay.
Take a scenic walk along the piers and boardwalks offering spectacular ocean views.


Simon's Town is well-known for the Navy, and penguins but also for one very special Great Dane. Just Nuisance, and his life, is a good feel story.  It is on the very streets of Simon's Town, that the legendary; Just Nuisance, once roamed - he was an enormous Great Dane. The only dog, believe it or not, who has ever officially been enlisted into the British Royal Navy and captured the hearts of many.
This lovable Great Dane served on the HMS Afrikander which was based in Simon's Town between 1939 and 1944. He passed away at the age of seven years old and was buried with full naval honours.
Just Nuisance was said to have been born in Rondebosch and taken along when his owner moved to Simon's Town, where he captured the hearts of the sailors. He used to ride trains, sleep on the gangplank, and accompany sailors safely back from the pubs when they closed. He holds a very special place in the history of Simon's Town so taking a photograph/of his statue in Jubilee Square is a must!
Your guide will take you to see Just Nuisance's bronze statue. Spend a few minutes browsing the beautiful African craft market and take a stroll along the harbour deck at the Mariner Wharf in Simon's Town.
Simons Town Boat trips and whale watching tours 
Whale Watching and Cape point boat trips can be booked to experience the most spectacular view of Cape Point from offshore. This 2-hour cruise offers everything from whales (in season) to exploring ocean caves. Trips depart from Simon's Town harbour, only 40 minutes from Cape Town city centre.
Sharks are not uncommon and can be found in the waters of False Bay, and the sea around Simon's Town is no different. One of the most popular experiences in Cape Town is Shark cage diving tours to see these magnificent creatures. There are various tour operators in Simon's Town that specialise in shark spotting, shark breaching, and shark diving. 
Let's help plan your shark tour experience. 
Discover Simon's Town
Steeped in rich history, Simon's Town has always attracted tourists and locals alike to spend a day exploring the hidden shops, cafes, restaurants, museums, and beaches.
Simon's Town is buzzing with life; people travel from all over to learn a little more about the history of the Navy, and to see the African penguins of course!
It's no surprise that historic Simon's Town boasts more than one museum.
Simon's Town Museums
The Warrior Toy Museum is truly a hidden treasure. This family-owned establishment has a good collection of old toys, dinky toys, cars, planes, and more like dolls from the First World War in near-mint condition, a real working toy train with an incredibly detailed track and scene - this place does have one of everything. They also have an amazing selection of model cars, some of which are for sale. 
The South African Naval Museum displays the history of the South African Navy from its early origins in 1922 when the South African Naval Service was established, and shows its involvement and expansion during and after the Second World War (1939-1945) with the establishment of the Seaward Defence Force and South African Naval Forces. The displays also show the historical ties with the British Royal Navy, the age of sail, and South African involvement during the First World War (1914-1918). The Transformation Display details the important events of the 1990s which culminated in the establishment of the new South African National Defence Force in 1994 and the transformation of the South African Navy through the years.
Best Cape Town Tours to Simon's Town