Start exploring with top-rated tours to Kirstenbosch

Situated on the eastern slopes of Table Mountain, Kirstenbosch is internationally acclaimed as one of the seven most magnificent botanical gardens

Explore Kirstenbosch at your own pace with a private Cape Town Tour

Discover Kirstenbosch National Botanical Gardens with over 7000 plant species

Discover Kirstenbosch Gardens on a private Cape Town tour

Situated on the slopes of Table Mountain, just 13km from the Cape Town, Kirstenbosch includes a fragrance garden, a medicinal garden, 2,500 species of plants
Kirstenbosch National Botanical Garden Information
Kirstenbosch National Botanical Garden is acclaimed as one of the great botanic gardens of the world. Few gardens can match the sheer grandeur of the setting of Kirstenbosch, against the eastern slopes of Cape Town's Table Mountain.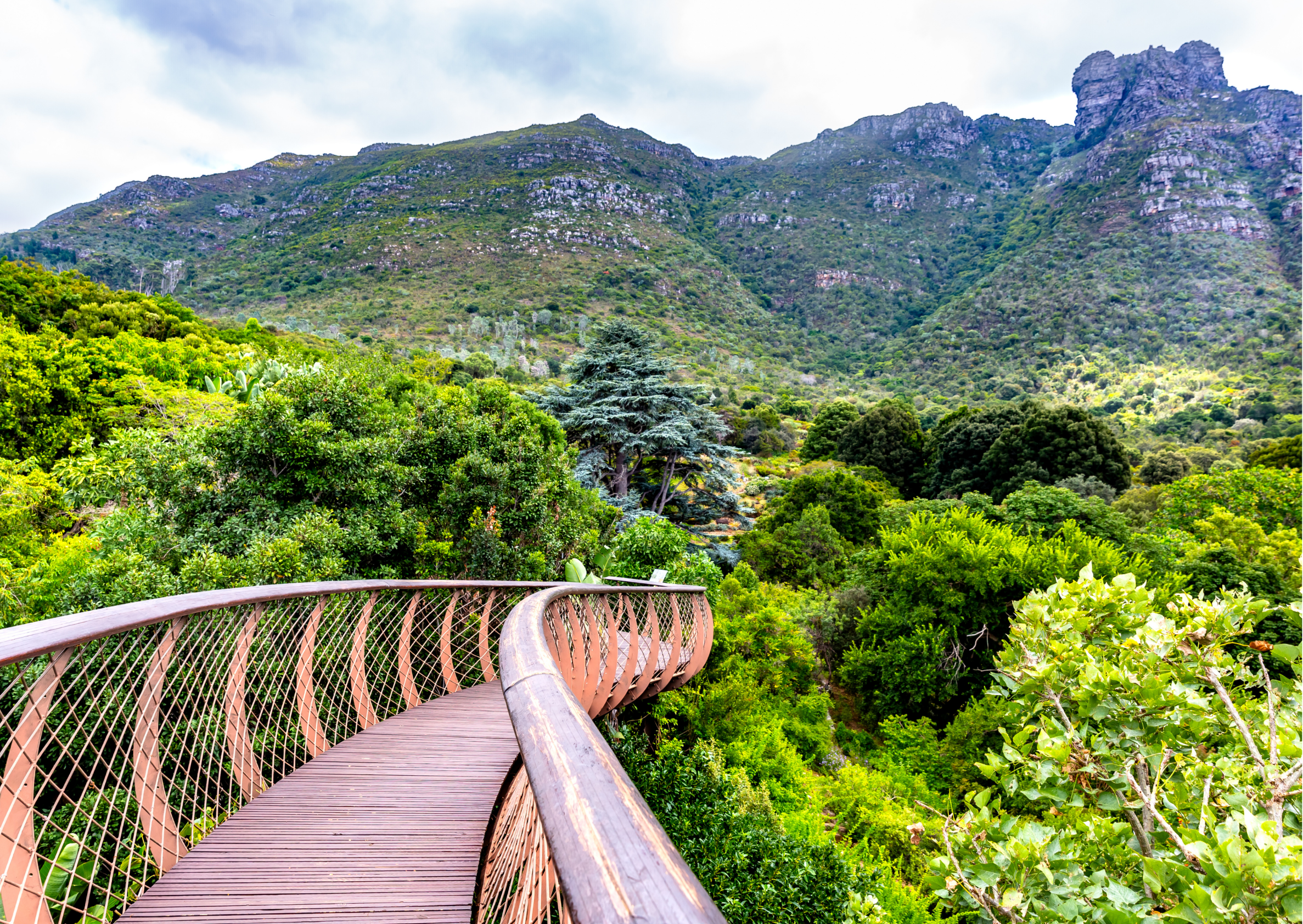 What's a visit to Cape Town without taking a little time to explore a few of the top attractions that have made the city famous?
Join us for a full day of seeing some of the best sights in and around Cape Town with a lovely stop at Kirstenbosch National Botanical Gardens in Newlands. 
Attractions in Cape Town: Kirstenbosch 
Just a short drive and only 13km from the city centre, you'll find one of Cape Town's most visited destinations.
Kirstenbosch National Botanical Garden is internationally acclaimed as one of the seven most magnificent botanical gardens in the world and the first botanic garden in the world to be included within a natural World Heritage Site. Spend the better half of the morning exploring the cultivated gardens and nature reserve. (Own expense)
Few gardens can match the sheer grandeur of the setting of Kirstenbosch, against the eastern slopes of Cape Towns Table Mountain. The 1,305-acre (528-hectare) site contains over 7000 species of plants from southern Africa and falls under the Cape Floristic Region, which is a UNESCO World Heritage Site.
For many plant lovers, scent plays an important role in enjoying a garden, and you'll get the chance to not only see magnificent and numerous plant species but also smell pleasantly scented breezes wafting from all directions of the garden. 
Birds are abundant at Kirstenbosch, particularly in the Garden – more than 125 species have been recorded.
Fragrance Scent Gardens 

Explore the fragrance garden and have fun trying to identify the unique and medicinal scents. The fragrance garden was grown for its pleasant smell and healing properties that come from the plant's leaves which produce pungent scents when rubbed.
Top things to see and do in Kirstenbosch

The developed garden displays collections of southern African plants including many rare and endangered species.
There are also visitor facilities in the garden including restaurants, a nursery, a gift shop, a bookshop a braille trail, a cycad amphitheater a Protea garden (best seen in spring!), and a permanent exhibition of Zimbabwean stone sculptures.
There is also the Botanical Society Conservatory, which houses plants from the continent's more arid regions.
Don't miss a visit to the popular Boomslang (tree snake) attraction. In 2013, Kirstenbosch's centenary was celebrated with the building of a 130-meter-long curved tree canopy walkway in its arboretum, the structure built by local architect Mark Thomas and engineer Henry Fagan
Kirstenbosch National Botanical Garden entry fees from 1 August 2021
Standard fees
Standard Adult: R200
Students from a South African institute (with student card): R45 *
All Scholars/Learners (6 – 17 years): R25
All Children under 6 years: Free
All BotSoc members (with membership card): Free
South African residents over the age of 60 (with ID): Free on Tuesdays except on public holidays
Fee for South African Residents & SADC Nationals 
South African Residents & SADC Nationals 18 years and older (with ID): R80
Fee for African Nationals **
African National Residents 18 years and older (with ID): R120
Click to see a virtual tour of Kirstenbosch 
Best Cape Town Tours to Kirstenbosch
Helicopter, Boat & City Tour includes Kirstenbosch
Feel the excitement as the helicopter lifts and floats away to take you over one of the most beautiful sites in the World. Take a 30 minute harbour boat cruise at V&A Waterfront. Hit all the top highlights of Cape Town's inner city on a guided tour with stops to the Bo-Kaap, Table Mountain, Maiden's Cove, Chapman's Peak Drive with wine tasting at Constantia wineries or wander the spectacular botanical gardens in Kirstenbosch.
Cape Town City Tour
See 360 degrees of breathtaking views from the top of Table Mountain. Wander the botanical gardens in Kirstenbosch. Explore the Bo-Kaap on foot along cobbled stone streets and admire the colorful houses. Sample hot, spicy, & sweet Cape Malay food. Enjoy a spectacular coastal drive to Camps Bay. Take a dip in a tidal pool and end the tour with sunset drinks at a secret location.
» Read More